Stock
BTS Vehicle selection
BTS in Dortmund always has a varied selection of young used DAF vehicles and brand new trucks on stock. We aim to have all the different types of DAF trucks available to you. If we do not have the right vehicle in stock for you we can always order a new DAF with your specifications or locate a young used truck through our purchase network.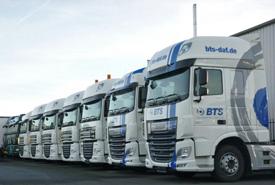 Used vehicles
Our stock is supplemented with new vehicles continuously so feel free to visit us in Dortmund. BTS Used specialises in young used trucks many of our trucks carry the DAF First choice label which is exclusively available to DAF trucks which meet the following criteria:
Less than 5 years old
Less than 500,000 kilometres
Full service history available
Passed the 180-points First Choice inspection
New vehicles
Being the largest DAF dealer in Germany we always have a range of brand new vehicles on stock, for our local customers. We can order these vehicles as a result of our close relationship with DAF. This helps if you require a new truck, but do not have the time to wait.